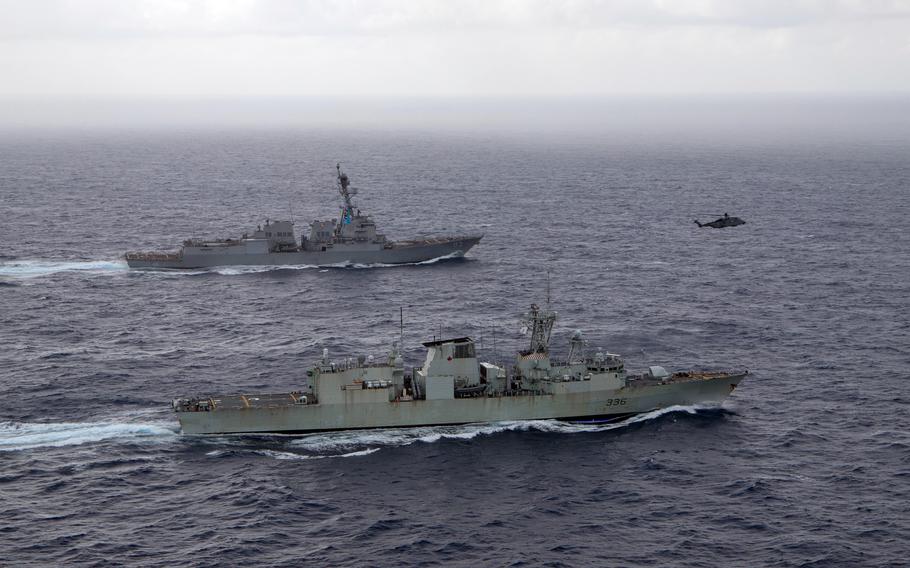 A US Navy guided-missile destroyer joined forces with Japanese, Australian and Canadian warships for a three-day exercise that began the same day it encountered an aggressive Chinese vessel in the Taiwan Strait.
The USS Chung-Hoon — alongside the Canadian frigate HMCS Montreal, Japanese destroyer Shiranui and Australian frigate HMAS Anzac — kicked off Exercise Noble Wolf on Saturday in the East China Sea, north of the strait, according to a Tuesday news release from the Japan Maritime Self-Defense Force.
Earlier that day, the Chung-Hoon and the Montreal carried out a "freedom-of-navigation operation" in the Taiwan Strait, according to the Navy. During the trip, a Chinese guided-missile destroyer overtook the allied ships and cut across the Chung-Hoon's path in an "unsafe manner," according to a US 7th Fleet video posted Sunday.
The transit was not part of Noble Wolf, according to Task Force 71 spokesman Lt. Joseph Keiley.
"USS Chung-Hoon sailing alongside maritime forces from Australia, Canada, and Japan was a great success in providing the opportunity to increase interoperability and work towards common goals," he told Stars and Stripes by email Wednesday. The military uses "interoperability" to describe the ability to use another country's training methods and military equipment.
Noble Wolf included surface surveillance, coordination and electronic warfare drills to "strengthen skills in maritime operations," Keiley said, and the exercise was "part of the range of joint and multinational events taking place during Large-Scale Global Exercise 2023."
The Chung-Hoon's transit of the Taiwan Strait also coincided with the Shangri-La Dialogue in Singapore, where Defense Secretary Lloyd Austin said Washington would not "flinch in the face of bullying or coercion" from China and would continue to operate in the Taiwan Strait and South China Sea.
"Our policy is constant and firm. It has been held true across US administrations. And we will continue to categorically oppose unilateral changes to the status quo from either side," he said. "I'd also highlight that conflict is neither imminent nor inevitable. Deterrence is strong today — and it's our job to keep it that way."
A spokesman for China's Eastern Theater Command, Army Senior Col. Shi Yi, "slammed" the two ships' transit and said their respective countries have been "maliciously undermining regional peace and stability and sending wrong signals to the 'Taiwan independence' forces," according to a Saturday news release from the official China Military Online website.
China considers Taiwan, a functionally independent democracy, a breakaway territory that must be reunified with the mainland, by force if necessary. Beijing routinely condemns the US and its allies for operations within the 110-mile-wide strait that separates the two.
On Tuesday, a day after Noble Wolf concluded, China and Russia conducted a scheduled "joint air strategic patrol" of the East China Sea and Sea of ​​Japan, according to a Tuesday news release from China's Defense Ministry.
Details of the operation were not discussed in the release.
Japan and South Korea, however, scrambled fighter jets in response to Chinese fighter jets and bombers operating in the region as part of the exercise, Reuters reported Wednesday.