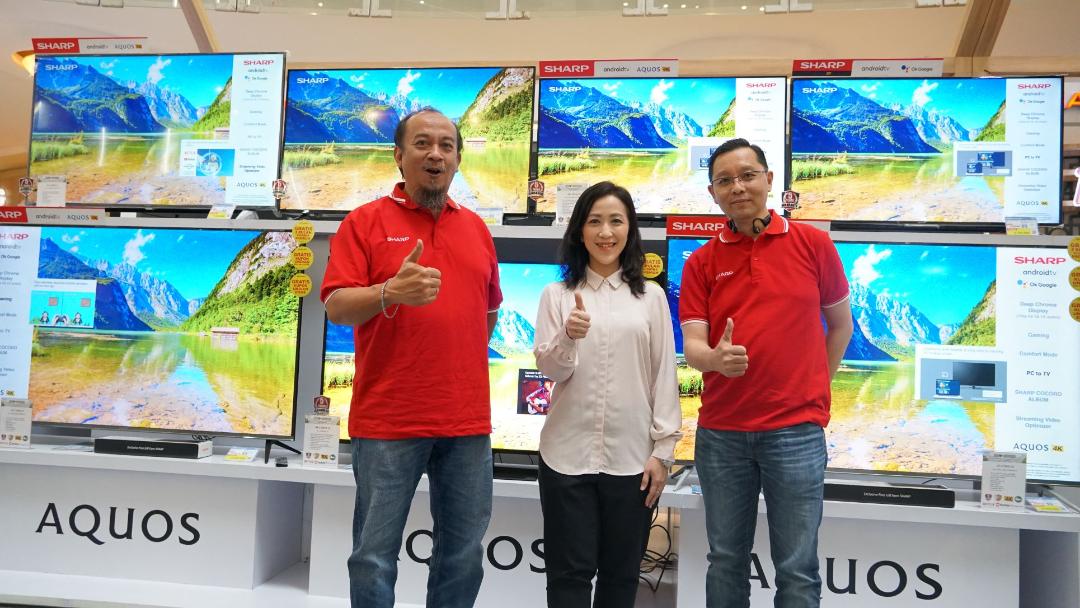 In commemoration of Sharp Corporation's 110th anniversary, Sharp Indonesia is holding Sharp Eco-Bition, an electronic product exhibition that carries the concept of environmental preservation as a form of Sharp's concern for the environment and society.
After successfully greeting loyal customers in Medan and Bandung since November 2022, Sharp Eco-Bition is present in the city of Jakarta from January 25 to January 29 2023 at the Millennium Atrium, 1st floor of Mall Artha Gading, North Jakarta. Collaborating with Electronics City as the official store, Sharp Indonesia not only presents products with innovation and new quality technology that carries the concept of environmentally friendly products, Sharp Eco-Bition also aims to increase public awareness and invite visitors to care about the environment by utilizing plastic waste. and used cardboard through Art & Craft workshops and Sharp DropBox.
Shinji Teraoka, President Director of PT Sharp Electronics Indonesia in a press release in Jakarta, Wednesday (25/1) said, Sharp has succeeded in creating innovative products with the technology needed by society and playing an important role in the development of the world's electronics industry. "With 110 years of experience, Sharp has further strengthened its position as the best electronic product brand. Apart from that, on its 110th anniversary, Sharp also wants to reinforce its commitment to environmental care by running Sharp's business which focuses on the environment, social and government governance.
Sharp realizes its success in maintaining consistency for more than a century, of course, cannot be separated from the loyalty of its loyal customers. For this reason, as an expression of its appreciation, in the Sharp Eco-Bition, Sharp Indonesia has prepared a myriad of promos for visitors who shop during the event.
Said Andry Adi Utomo, National Sales Senior General Manager of PT Sharp Electronics Indonesia, other than promos such as promos flash sales at certain times that provide direct discounts worth IDR 500,000, Sharp also provides free promo Go car points worth IDR 100,000 and free vouchers spending hundreds of thousands of rupiah.
At the same time, Sharp launched three models of air fryers namely KF – MP42WH with a capacity of 4.2 liters, KF – DP55BK with a capacity of 5.5 liters and KF-DP55BL with a capacity of 5.5 liters. It has three main features, namely Features rapid air system which can cook/fry faster, features detachable fry pen which can filter oil in food so that food is healthier, and the auto-continue feature which provides convenience in the cooking process and can cook 12 types of dishes such as fish, chicken, meat, bread easily, is a way out for urban people who really care about health and don't want to be complicated.
Sharp Products air fryer thrown into the market with a price range of IDR 1 million – 1.5 million. In addition to the air fryer, Chef Matt Foodie will also be demonstrating rice cooker products by showing the function of this product is not only for cooking rice but can be used to make other foods such as making mashed potatoes. "Sharp Indonesia echoes the message of environmental preservation by inviting people to be more concerned about the environment by collecting plastic/paper/cans/glass bottle waste to exchange it for Eco bags from Sharp," said Andry.
Just so you know, the way to follow is very easy, visitors just need to register at the following link https://forms.gle/U2Er1k3fUGquazry8, then household waste that has been cleaned is put into the drop box provided. The photo of the moment was then uploaded to the Instagram account feed by mentioning @SharpIndonesia and writing the hashtag #sharpdropbox.